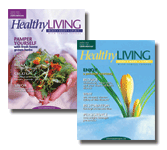 HEALTHY LIVING MAGAZINE (SEE AD RATES BELOW)

The Healthy Living Magazine is a full-color, glossy, 48 +/- page publication that provides comprehensive, research-based information in an easy-to-understand format on a variety of health and wellness topics. The magazine is designed to educate, enable, and motivate viewers to take charge of their health and to become better, more informed consumers in the healthcare decision-making process.
Similar to the content on the Healthy Living with Teresa Tanoos television and radio programs, the Healthy Living Magazine features articles from guests on the show, including physicians and other health professionals on topics within their particular field of expertise. Each magazine also features a cover story relative to a theme. For example, the magazine has featured cover stories on Dawn Wells ("Mary Ann" from Gilligan's Island), Tony Dungy (Indianapolis Colts coach), Mark Herrmann (former NFL quarterback), and other recognizable personalities who have a specific message pertaining to health and wellness – mind, body, and soul.
Other articles published in previous issues of the Healthy Living Magazine include: "Healthy Looking" featuring the latest advancements in cosmetic surgery; "Healthy Cooking" featuring recipes from celebrity chefs and local restaurants; "Healthy Diet", featuring registered dieticians and other nutrition experts on topics related to food, including vitamin and herbal supplements; "Healthy Relationships" featuring a noted psychologist specializing in helping clients improve their communication skills; "Healthy Soul" featuring a wide range of clergy on the role faith can play in the healing process; and "Healthy Workplace" featuring life coaches on reducing stress on the job.
An electronic replica of the magazine, utilizing the same state-of-the-art software as TIME and SPORTS ILLUSTRATED, makes online reading a breeze. Visit www.healthylivinginfo.com for more, or to read our new Interactive Editions online now, click the links below for the last two issues...
Interactive Edition - Summer 2006 Issue
Interactive Edition - Winter 2007 Issue