Click on the cover to the right to read the NEW Interactive Edition of the Healthy Living Magazine NOW, featuring top plastic surgeon, Dr. Catherine Winslow, on the latest non-invasive facial cosmetic procedures!
Subscribe online today for guaranteed delivery of each issue of Healthy Living Magazine, the print companion to the Healthy Living with Teresa Tanoos television series, radio program, and Website archiving content from each.
To date, over 450,000 issues of the magazine have been distributed to loyal readers. To keep up with demand, we now offer online subscriptions to Healthy Living Magazine! Just click on the SUBCRIBE button below, and you'll be on your way to taking charge of your health by learning how to become healthier - mind, body, and soul.
You may also subscribe by phone by calling 317.891.3248. To subscribe by mail, send a check or money order for $12.95 to the following address, and we will contact you promptly to confirm receipt: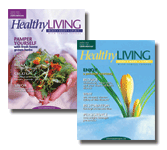 Healthy Living Magazine
c/o Cartera Media, Inc.
5999 West Memory Lane, Suite A
Greenfield, Indiana 46140