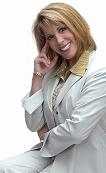 Healthy Living with Teresa Tanoos is a weekly half-hour television series airing nationwide on the Healthy Living Channel, reaching an estimated 23-million viewers each week (check for local listings).
It also airs each Wednesday at 5:30 PM on WTHR-13's SkyTrak Network, with special "prime time" episodes airing Saturdays at 7:30 PM on NBC/WTHR-13, and 30-second Healthy Living Reports airing during news programs and Oprah on NBC/WTHR-13.
Healthy Living with Teresa Tanoos is available for syndication and has been broadcast on a variety of television network affiliates and cable channels nationwide. For more information contact Steve Carlock at Cartera Media, Inc. at 317.891.3248. To view recent episodes now, just click on the links below. You will need Windows Media Player.